Reliable performance for supporting high-precision LC/MS/MS analysis
Example of Drug Interaction Testing
With pharmacokinetics, large numbers of samples must be analyzed at high speed and with high precision. By combining the SIL-30ACMP and LCMS-8030, the advantages of the high-precision injection mechanism of the SIL-30ACMP and the reliable quantitative performance of the LCMS-8030 can be utilized, even in drug interaction tests like the one shown below.
Linearity of Nifedipine Oxide Standard Solution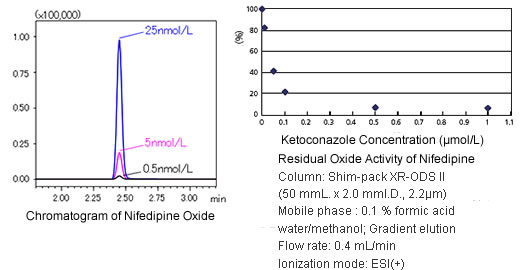 CTO-30AS Column Oven – Minimizes the column-mass spectrometer distance –
On an LC/MS system, shortening the piping from the column to the MS is important. The optional CTO-30AS Column Oven is installed on the side face of the SIL-30ACMP. Its installation height can be adjusted (3 levels) and its angle can be adjusted (between vertical and almost horizontal) to align with the height of the detector. Since the column outlet can be aligned with the detector's entrance and the height of the LC/MS interface, piping after exiting the column is much shorter. This minimizes peak dispersion and achieves ultrafast, high-separation analysis by making full use of the column's performance.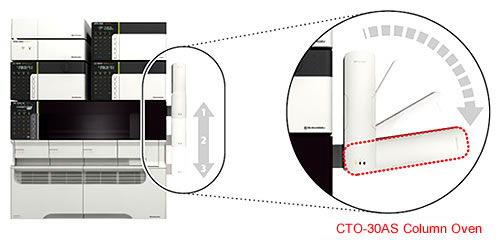 This page may contain references to products that are not available in your country.
Please contact us to check the availability of these products in your country.