Strong Support for Ensuring the Reliability of Analysis Data and Enhancing Productivity

In analytical laboratories, it is necessary to ensure that there have been no errors or irregularities in the procedures used to obtain results from the acquired data. Confirming test results and maintaining accurate analysis operational logs are also required. This is in order to ensure both the accuracy of the acquired data and the reliability of analysis data.
LabSolutions Report Set visualizes software operations to ensure the reliability of analysis data. At the same time, the amount of time needed to confirm analysis results can be reduced to 1/2 or 1/3.
Three Features Achieved by the LabSolutions Report Set

Visualization of the Sequence of Analysis Operations Ensures Reliability and Reduces the Burden of Confirmation Procedures


Information from a sequence of analyses (batch analysis), analysis results and conditions, and even the entire operational log from the start to the end of analysis procedures are summarized in a single PDF file (Report Set). This simplifies confirmation of analysis results and operations, thereby ensuring reliability and reducing the burden of confirmation procedures.
The Sequence of Analysis Results Is Automatically Protected Against Tampering

Editing of the sequence of analysis results subject to visualization is automatically disabled, preventing the revision, substitution, or tampering of results.
As a result, revision, substitution and other forms of tampering with the analysis results is prevented. In addition, the visualized Report Set and the sequence of analysis results are linked, allowing individual analysis results data sets to be searched and checked easily.
Digitization of the Confirmation Process for the Analysis Results Report Enhances Productivity

A report confirmation record can be left at any point in the analysis results report output as a PDF file. If any items have not been checked, an error is issued, preventing omissions in the report confirmation process. In addition, electronic signatures can be used for the confirmation of the Report Set. These functions simplify on-screen confirmation, enabling paperless operations and heightening productivity.
Provided Report Set Function Enables Visualization of Computer Operations and Improves Procedural Efficiency
For Creating a Report Set with LC/GC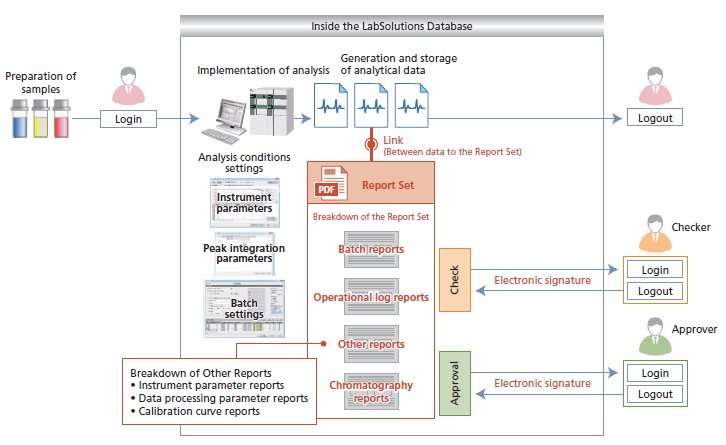 Report Set is a PDF file that gathers operational information (human-mediated operations and settings) scattered within the software, as well as batch (sequential analysis) reports and chromatography reports, and summarizes them in a single report. This Report Set can be created with a single operation.
As with analytical data and method files, the PDF Report Set is produced and stored in a security-controlled database. Also, the software that creates the PDF Report Set is incorporated in LabSolutions, so there is no need to apply separate validation for PDF creation software.
For Creating a Report Set*1*2 with Spectrometer
The procedures for creating a Report Set with a spectrometer follow the sequence for chromatographs, so the procedures are just as simple as with a chromatograph.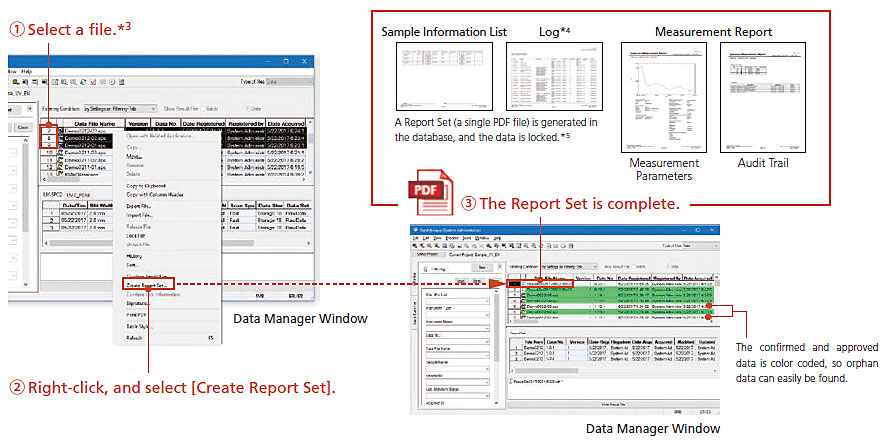 *1: As of July 2017, the following functions (1) to (3) are not yet supported for UV, FTIR, and RF Report Sets.
(1) ID assignment to measurement methods
(2) Avoidance of duplicate printing of measurement methods for multiple data sets
(3) Sequential measurement. This is supported, however, for UV quantitative (photometric) analysis.
*2: UV, FTIR, and RF Report Sets are supported by the LabSolutions CS network and LabSolutions DB standalone.
*3: In terms of file selection when creating report sets, for UV photometric data, if a single file is selected, a Report Set including any related files will be created.
*4: A log is recorded during measurements. If a postrun analysis is performed, a log will also be recorded during the postrun analysis.
*5: Locked files can only be unlocked by users with the relevant rights.