ChromSquare, the data analysis software for 2D-LC
2D Qualitative & Quantitative analysis using Contour Graphics
Acquired data is converted to two-dimensional contour plotting using ChromSquare, the software for comprehensive 2D-LC analysis. A peak on chromatogram is recognized as spot or feature on the contour plot. The qualitative and quantitative data processing are performed for the target spot.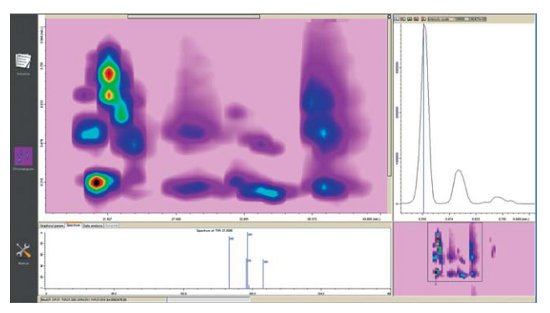 LC×LC/MS data analysis of standard phospholipid sample
(upper left: Contour plot (magnified view); lower left: MS spectrum; upper right: Second-dimensional chromatogram; lower right: Contour plot (general view))
An MS spectrum is displayed in real time along with a mouse pointer. For example, the sample-specific spot can be easily identified based on its MS spectrum. In addition, a standard curve for quantitative analysis can be calculated for each sample based on the contour spot.

MS spectrum of the entire contour spot area (red lines)
and MS spectrum of individual data points (blue lines)
ChromSquare is a product of Chromaleont S.r.l., Italy.
For Research Use Only. Not for use in diagnostic procedures.
This page may contain references to products that are not available in your country.
Please contact us to check the availability of these products in your country.