Convenient TOC analysis software
The scalable PC-control and data evaluation platform for TOC-L Series analysers
TOC analysis with the TOC-Control L PC software is as easy to learn as any common office software while retaining full functionality necessary for professional sample measurement.
Clear structures for easy accessibility
Calibration curves, analysis methods, quality checks, such as control sample measurements, and even complete sequences of multiple samples types, are initially set up according to the needs of the laboratory. Wizards guide the users step by step through this process. All information necessary for the analysis is functionally differentiated and clearly displayed in the user interface.

Set up even complex batches with minimal effort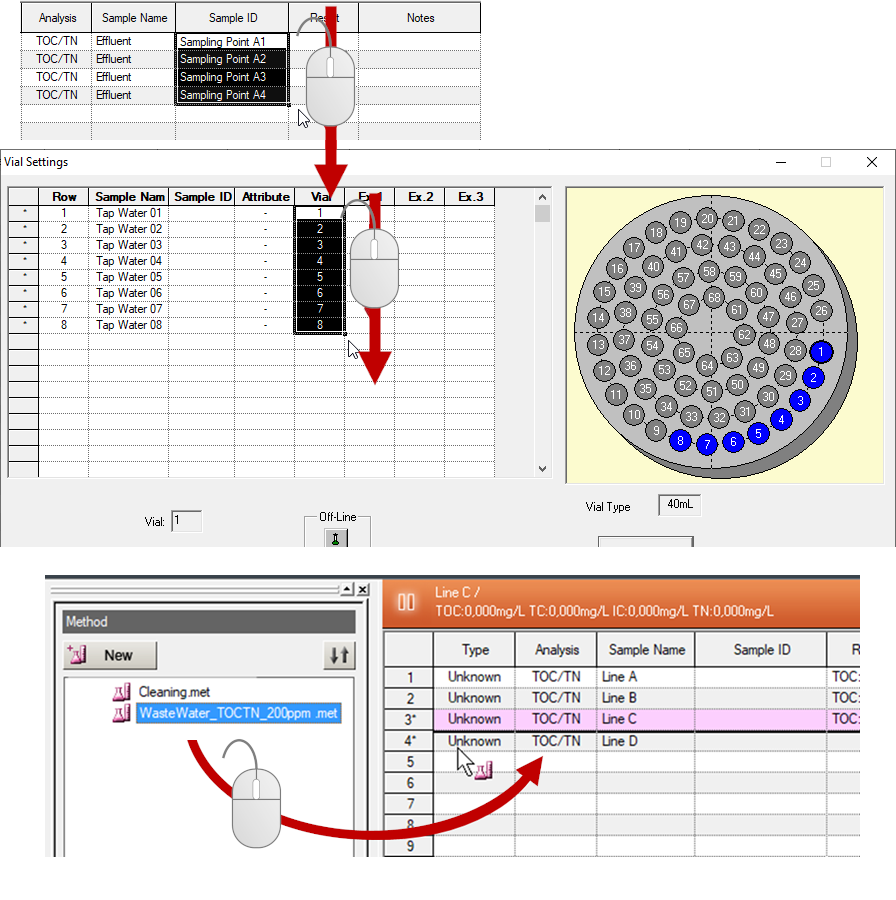 Simply drag and drop items, such as sample methods, calibrations and QC samples, from the method explorer into the sample table to create sequences quickly and efficiently.
Time-saving drag auto complete functions assist you in the Progress.
Add specific sample information and comments according to your Needs.
Load the autosampler and assign positions. A dedicated loading screen helps avoiding mistakes.
Define instrument standby options already when starting or during a batch to save energy and gas after completion.
Would you like the instrument to be ready for the next task at a specific time and day? No problem, define a "wake up" time.
In case an urgent sample has to be added or a modification is necessary while the batch was already started, the "edit mode" can be used for seamless changes during a running Batch.
Integrated quality control and data reliability functions
Solutions for consistent result quality
Analytical quality control is an integral part of routine laboratory analysis and an essential process with the goal to avoid incorrect results and maintain analytical consistency. As regulations tighten, TOC systems and their methods are increasingly being subjected to strict specifications for parameters such as accuracy, precision and linearity. TOC-Control L comes with a variety of inbuilt quality control functions, all of which can be customised to meet the individual laboratory requirements.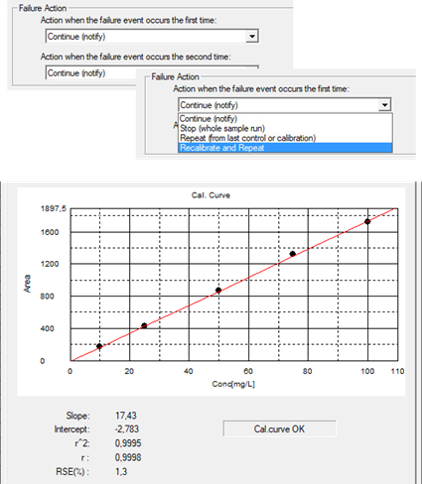 Automatic calibration curve linearity check functions.
Control sample wizards for the effortless setup of recovery (incl. spiked),
mean concentration, blind value and spanwidth measurements.
Define failure actions for controls and calibrations, like notifications,
stopping the batch, or automatic repeat measurement and re-calibration.
Inbuilt USP/EP System Suitability Test Wizard.
Method quantification limit and instrument validation function.
Native LIMS connectivity.
Ensure the reliability of your data with inbuilt security functions
TOC-Control-L is equipped with a range of scalable and effective security functions, that can be configured to suit the operational environment. Upon installation, a "security policy" is defined to deal with specific requirements, such as user authentication and management, audit trail and prohibitions on deletion and editing of measurement data.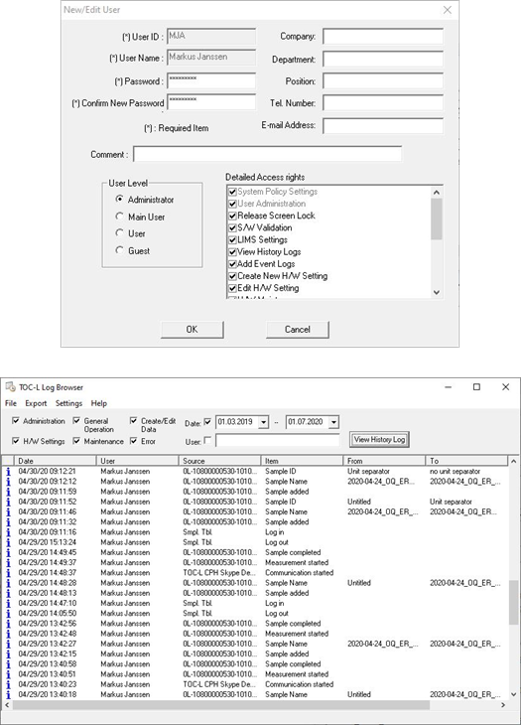 Improper system access is prevented by user authentication via ID/password.
User access rights can be defined based on predefined roles, or on functional basis for each user.
Deletion and/or editing of data may be prohibited by system Policy.
A record of operations performed within the software and measuring instrument can be maintained automatically in an audit trail.
In addition to timestamp and user name associated with operation, the details of setting changes can be tracked. Users may be required to comment Actions.
Manual actions, that cannot be logged automatically by the system (e.g. consumable exchange), can be added manually to the audit trail. This consistently ensures that all operations are traceable.
The "runtime report" function can be configured to automatically create analysis reports while batch measurement is being processed. Reports can be fully customized both in design and content according to operational Needs.
Compliance with regulated laboratory environments
Supporting ER / ES requirements by LabSolutions framework integration
A secure and future-oriented software solution built to fulfill new requirements with regard to technical records, electronic signatures and data management.
For any lab already involved with GxP, terms such as compliance, ALCOA+, GAMP, PIC/S and FDA 21 CFR Part 11 are very well known. Historically these principles have mostly been applied in the pharmaceutical industry. However, with changes made in ISO 17025:2017 these principles have also become increasingly important for testing and calibration laboratories. Shimadzu offers a comprehensive solution – not only for TOC systems, but also for chromatography, spectrophotometers and other laboratory instruments. Users can securely integrate a large number of systems under uniform user administration to be prepared for the new requirements.
Support for role based access Control.
Accurate and complete record access including "metadata" throughout the complete retention period.
Raw data is reliably protected from deletion, overwriting and Alteration.
Automatically generated and retained audit Trail.
Electronic signature function, incl. signature manifestation on human readable records.
Implementation on a local PC as LabSolutions DB, or in a client-server network featuring multiple instruments with LabSolutions CS.




Learn more about LabSolutions