Comfortable Operating Environment 2
An Enormous Quantity of Data Can Be Quickly Searched

LabSolutions CS provides integrated, server-based data management, which means that data can be browsed from anywhere. In addition, the data obtained from the analysis schedule can be looked for collectively and a wealth of search functions makes it easy to search for data of interest.
Capable of Analysis Even When the Server is Down

With general systems, when the server is down, analysis stops. With LabSolutions CS, even if a problem with the server occurs, analysis can be performed using the acquisition controller PC. In addition, after server recovery, the data from analysis results is saved automatically in the LabSolutions server via the acquisition controller PC.

Multi-Data Report Creation

In addition to conventional analysis report creation functions, LabSolutions also provides multi-data report creation functionality as an option. This makes it possible to easily create reports using Microsoft Excel. When creating, simply select an Excel formatted template file, preregistered in the database, together with multiple data files. The selected data files will then be automatically deployed in Excel to enable report creation. The process can be coordinated with scheduled analyses, making it possible to quickly create reports when an analysis ends.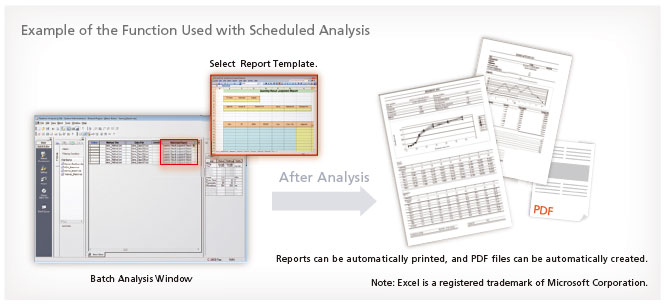 This page may contain references to products that are not available in your country.
Please contact us to check the availability of these products in your country.